The cold March of 2013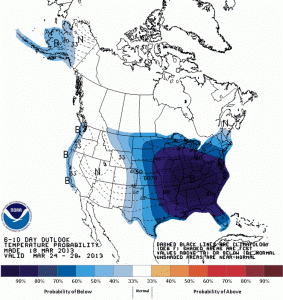 March is in the books and most people could not be happier since it was the 5th coldest since 1939 in Charlotte. That's when they moved the official observations to the airport. The average temperature for the month was 46.1° which was 5.1° below the 30 year average. If you go back to 1878 when records began in Charlotte this was the 8th coldest on record. What makes this March seem so much colder is the fact that last March we had the 2nd warmest on record. So in the span of a year we went from one of the warmest March's on record in Charlotte to one of the coldest. We only set one record low though of 26° on the 29th. The highest temperature all month was 79° set on the 16th. The coldest was 21° on the 4th and 4th. We had a trace of snow on the 2nd and the 6th. Rainfall ended up with 3.44" which was actually 0.57" below normal. 22
Looking ahead to April I expect things to warm up but only to about average for this time of the year. The good news about April is even below normal temperatures are warmer than the average temperature in March. The cool weather yielded 22 of the 31 days with below normal temperatures.
The rest of the Southeast was just as cold with many location measuring top ten coldest March months on record.
Rankings for March as locations around the Southeast: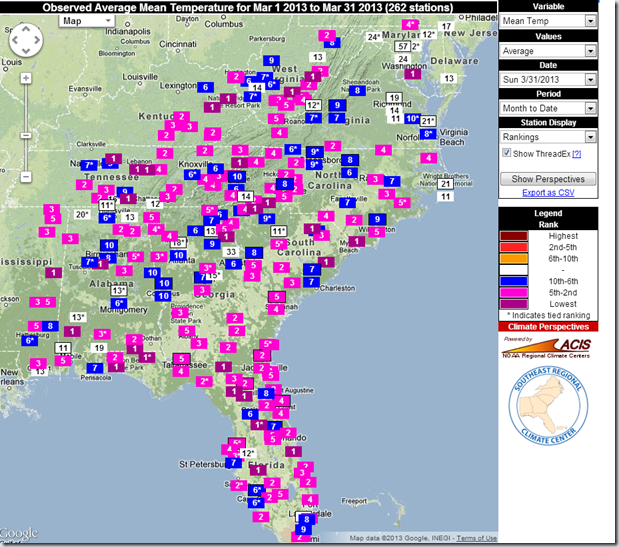 Departure from normal: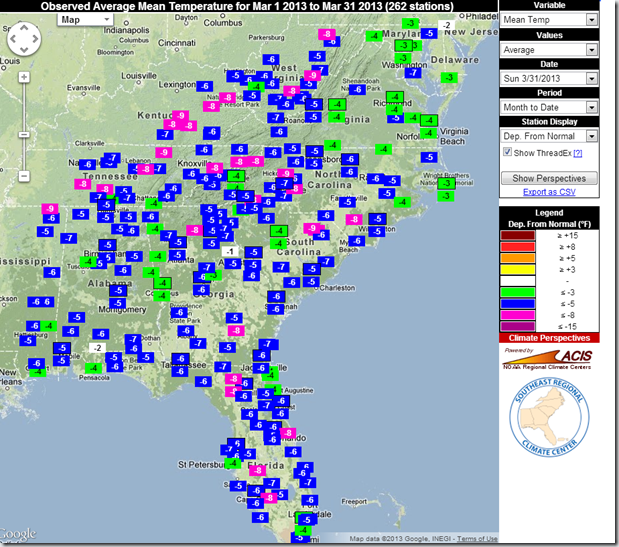 March by the numbers:
These data are preliminary and have not undergone final quality control by the National Climatic Data Center (NCDC). Therefore, these data are subject to revision. Final and certified climate data can be accessed at the NCDC – http://www.ncdc.noaa.gov.
WFO Monthly/Daily Climate Data
000
CXUS52 KGSP 011217
CF6CLT
PRELIMINARY LOCAL CLIMATOLOGICAL DATA (WS FORM: F-6)

                                          STATION:   CHARLOTTE NC
                                          MONTH:     MARCH
                                          YEAR:      2013
                                          LATITUDE:   35 12 N
                                          LONGITUDE:  80 57 W

  TEMPERATURE IN F:       :PCPN:    SNOW:  WIND      :SUNSHINE: SKY     :PK WND
================================================================================
1   2   3   4   5  6A  6B    7    8   9   10  11  12  13   14  15   16   17  18
                                     12Z  AVG MX 2MIN
DY MAX MIN AVG DEP HDD CDD  WTR  SNW DPTH SPD SPD DIR MIN PSBL S-S WX    SPD DR
================================================================================

 1  48  26  37 -10  28   0 0.00  0.0    0  4.3 13 300   M    M   7        18 320
 2  46  31  39  -8  26   0 0.18    T    0  4.5 17 350   M    M   9 148    23 350
 3  47  21  34 -14  31   0 0.00  0.0    0  5.6 14 340   M    M   3        20 340
 4  55  21  38 -10  27   0 0.00  0.0    0  4.5 13 320   M    M   2        17 310
 5  57  38  48   0  17   0 0.37  0.0    0  4.8 21 310   M    M  10 1      32 320
 6  50  31  41  -7  24   0    T    T    0 11.5 25 310   M    M   5 1      37 310
 7  56  24  40  -9  25   0 0.00  0.0    0  6.3 16  10   M    M   2        21 360
 8  58  23  41  -8  24   0 0.00  0.0    0  7.5 17  10   M    M   0        23 320
 9  63  31  47  -2  18   0 0.00  0.0    0  4.1 12  30   M    M   2        20  70
10  67  36  52   2  13   0 0.00  0.0    0  4.3 13 160   M    M   7        18 170
11  70  45  58   8   7   0 0.15  0.0    0 11.3 24 170   M    M   8 1      32 160
12  70  45  58   8   7   0 0.72  0.0    0 10.0 23 170   M    M   6 1      29 170
13  59  33  46  -4  19   0 0.00  0.0    0  8.6 22 340   M    M   2        30 320
14  54  29  42  -9  23   0 0.00  0.0    0  6.9 16 350   M    M   2        24 310
15  68  26  47  -4  18   0 0.00  0.0    0  6.8 12 220   M    M   3        18 220
16  79  56  68  17   0   3 0.00  0.0    0 11.5 23 230   M    M   7        36 220
17  77  46  62  10   3   0 0.00  0.0    0  7.0 20  50   M    M   8        28  60
18  46  40  43  -9  22   0 0.61  0.0    0  8.8 18 350   M    M  10 138    24 360
19  67  40  54   2  11   0 0.00  0.0    0  7.8 18 320   M    M   6 12     24 320
20  56  40  48  -4  17   0 0.00  0.0    0  7.0 20 320   M    M   8        28 320
21  48  29  39 -14  26   0 0.00  0.0    0  9.0 20 320   M    M   1        26 330
22  53  26  40 -13  25   0 0.00  0.0    0  4.6 13 250   M    M   6        17 250
23  53  40  47  -6  18   0 0.03  0.0    0  3.1  9 150   M    M   9 1      12 150
24  44  39  42 -11  23   0 0.76  0.0    0  8.2 20  20   M    M  10 1      29 100
25  50  36  43 -11  22   0 0.02  0.0    0  8.6 23 280   M    M   7 1      32 290
26  49  29  39 -15  26   0 0.00  0.0    0  6.5 16 340   M    M   5        22 340
27  54  25  40 -14  25   0 0.00  0.0    0  8.2 17 350   M    M   1        23 320
28  58  27  43 -11  22   0 0.00  0.0    0  6.4 16  10   M    M   0 8      22  10
29  63  26  45 -10  20   0    T  0.0    0  4.1 12 220   M    M   3        16 220
30  65  45  55   0  10   0 0.32  0.0    0  4.2 15 130   M    M  10 1      18 140
31  71  51  61   6   4   0 0.28  0.0    0  8.5 22 220   M    M   9 1      30 240
================================================================================
SM 1801 1055       581   3  3.44    T    214.5          M      168
================================================================================
AV 58.1 34.0                               6.9 FASTST   M    M   5    MAX(MPH)
                                 MISC ---->  # 25 310               # 37  310
================================================================================
NOTES:
# LAST OF SEVERAL OCCURRENCES

COLUMN 17 PEAK WIND IN M.P.H.

PRELIMINARY LOCAL CLIMATOLOGICAL DATA (WS FORM: F-6) , PAGE 2

                                          STATION:  CHARLOTTE NC
                                          MONTH:    MARCH
                                          YEAR:     2013
                                          LATITUDE:   35 12 N
                                          LONGITUDE:  80 57 W

[TEMPERATURE DATA]      [PRECIPITATION DATA]       SYMBOLS USED IN COLUMN 16

AVERAGE MONTHLY: 46.1   TOTAL FOR MONTH:   3.44    1 = FOG OR MIST
DPTR FM NORMAL:  -5.1   DPTR FM NORMAL:   -0.57    2 = FOG REDUCING VISIBILITY
HIGHEST:    79 ON 16    GRTST 24HR  0.76 ON 24-24      TO 1/4 MILE OR LESS
LOWEST:     21 ON  4, 3                            3 = THUNDER
                        SNOW, ICE PELLETS, HAIL    4 = ICE PELLETS
                        TOTAL MONTH:    T          5 = HAIL
                        GRTST 24HR    T  ON  6- 6  6 = FREEZING RAIN OR DRIZZLE
                        GRTST DEPTH:   0           7 = DUSTSTORM OR SANDSTORM:
                                                       VSBY 1/2 MILE OR LESS
                                                   8 = SMOKE OR HAZE
[NO. OF DAYS WITH]      [WEATHER - DAYS WITH]      9 = BLOWING SNOW
                                                   X = TORNADO
MAX 32 OR BELOW:   0    0.01 INCH OR MORE:  10
MAX 90 OR ABOVE:   0    0.10 INCH OR MORE:   8
MIN 32 OR BELOW:  16    0.50 INCH OR MORE:   3
MIN  0 OR BELOW:   0    1.00 INCH OR MORE:   0

[HDD (BASE 65) ]
TOTAL THIS MO.   581    CLEAR  (SCALE 0-3)  11
DPTR FM NORMAL   148    PTCLDY (SCALE 4-7)  13
TOTAL FM JUL 1  2986    CLOUDY (SCALE 8-10)  7
DPTR FM NORMAL  -146

[CDD (BASE 65) ]
TOTAL THIS MO.     3
DPTR FM NORMAL    -2    [PRESSURE DATA]
TOTAL FM JAN 1     3    HIGHEST SLP 30.36 ON 29
DPTR FM NORMAL    -2    LOWEST  SLP 29.55 ON 24

[REMARKS]
#FINAL-03-13#