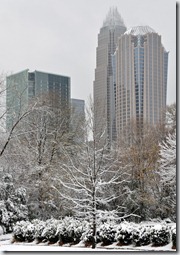 If you were hoping for a white Christmas in Charlotte this year I suggest looking at pictures and videos from 2010. Getting snow on Christmas in Charlotte is a very rare event.
That's why the white Christmas of 2010 was so special to so many residents of the area. Historically in 135 years of weather records in the city it has only snowed on Christmas day 11 times. That's only 8% of the years, but 7 of those times it was only a trace which technically doesn't qualify as a white Christmas. To truly have a white Christmas you need accumulation. Accumulating snows have only occurred 4 times in 135 years in Charlotte on Christmas day. Which means just 3% of the years since records began in Charlotte we have had a white Christmas. So 2010 was the first white Christmas in 63 years and was the 3rd most snow on Christmas day on record. The all-time highest total was 5.8" on Christmas day 1947. This was also the last time we had a white Christmas before 2010. On top of Charlotte seeing a rare White Christmas most of the Southeast and parts of the mid-South were covered in a blanket of fresh snow by Dec 27th.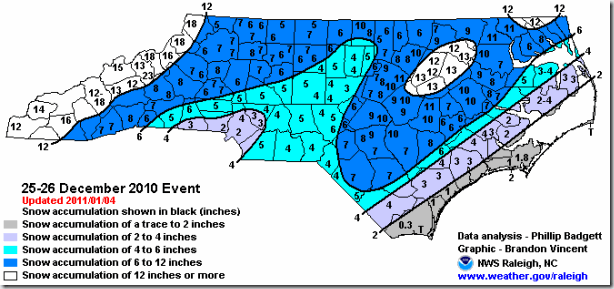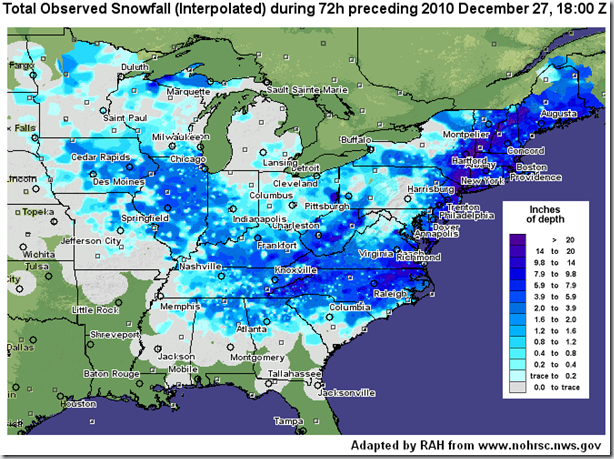 Christmas Weather History for Charlotte, NC:
Snowfall:

Warmest Christmas Days on record:

Coldest Christmas Days on Record: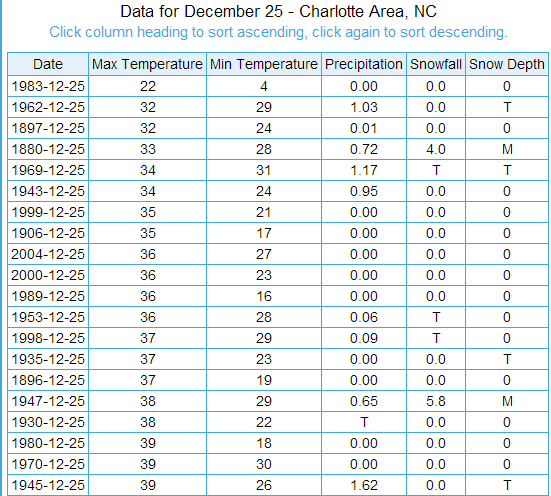 What about this year?
There will be a nice warm-up the weekend before Christmas with highs in the upper 60s to around 70°. A strong cold front moves in Monday with a chance of thunderstorms maybe even a few severe ones. This front cool thing off dramatically for Christmas day. High by then should be in the mid to upper 40s with partly cloudy skies. Remember the average high for Christmas Day is just 50° so anything below that is actually cool for this time of the year